CO2
Carbon dioxide (CO2) is a colourless, odourless, electrically non-conductive gas that is h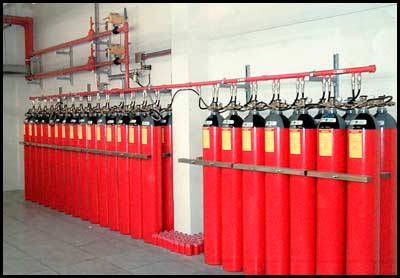 ighly efficient. Extinguishing agent CO2 has been used for more than 80 years and was the first gaseous agent used for fire suppression. It can be used for local application and total flooding systems and is suited to a wide range of applications and hazards, CO2 has a high rate of expansion enabling rapid fire suppression and provides a heavy blanket of gas that reduces the oxygen level to a point where combustion cannot occur.
CO2 – Carbon dioxide Fire Suppression
Carbon dioxide (CO2) is a colorless, odorless, and chemically inert gas that is both readily available and electrically non-conductive. It extinguishes fire primarily by lowering the level of oxygen that supports combustion in a protected area. This mechanism of fire suppression makes CO2 suppression systems highly effective, requiring minimal clean-up, but should be used in normally unoccupied hazard locations or otherwise avoided by personnel when discharged. CO2 suppression systems may utilize the gas through a total flooding approach but carbon dioxide is also the only gaseous agent that may be utilized through local application. Carbon dioxide can be stored in either high pressure spun steel cylinders.
CO2 Advantages
Less expensive for smaller systems
Stored in US-DOT compliant High spun cylinders.
Cylinders come in 3 different sizes
Easy to install
Readily Available
Fewer Components
Typical areas of fire protection
Flammable liquid storage
Transformers
Rotating electrical equipment
Power generation
Metal processing facilities
Printing industry
Paint mix
Machining facilities
Instant Online Quotations Available click here

How can Karafire help you?
For further information, or if you would like a quotation for an IG55 fire suppression system, then call our offices on 021 xxxxxxx  or email us at b.khalatbari@karafire.com