Oxygen Reduction System
The system consists of a hypoxic air membrane generator system and a distribution system which is built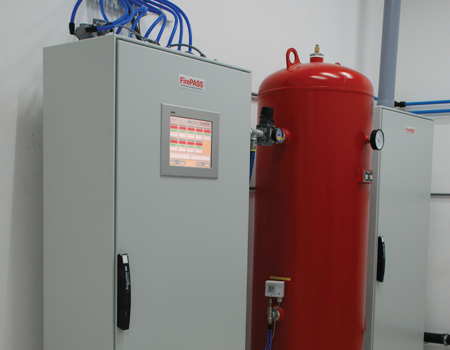 into standing metal cabinets; one separate hypoxic air buffer vessel, separate compressors mounted on compressed air buffer vessels plus a separate refrigerant air dryer and one separate condensate cleaner. The system produces hypoxic air with never less than 10% O².
Oxygen reduction systems (ORS)
Oxygen Reduction Systems (O.R.S.) are revolutionary fire prevention systems. This cutting-edge technology creates artificially-controlled atmospheres in which the residual amount of oxygen is insufficient to trigger a fire.
The preventive action is achieved by diluting the oxygen contained in the air (which under normobaric and normoxic conditions is present with a volumetric concentration of 20,94%) with an inert gas; an oxygen concentration of not more than 15-16% is constantly guaranteed within the protected volume. This condition (althoughit's not dangerous for human health within specified exposure limits and equivalent to the atmosphere that webreathe at high altitudes) is sufficient not to allow a fire triggering.
O.R.S. technologyof Bettati Antincendio is developed through the partnership with Marvil Engineering, a leading company in the field of controlled atmospheres, which developed and installed the first Oxygen Reduction System for fire prevention in an automated warehouse in Italy (2005).
Advantages
New and revolutionary technology in fire prevention
The only system in the world that guarantees a total fire prevention, 100% safe and reliable
Continuous monitoring of system operation
Easy to use and maintain
Zero environmental impact
Preventing of damages caused by fire triggering or accidental discharges
Minimal dimensions of system hardware within the protected enclosure and maximization of available storage volume
Possibility to integrate the o.r.s. Into the hvac system of the building
On-site inert gas production, no need of external suppliers
Instant Online Quotations Available click here

How can Karafire help you?
For further information, or if you would like a quotation for an ORS fire suppression system, then call our offices on 021 xxxxxxx  or email us at b.khalatbari@karafire.com